Writer Joseph C. Lincoln once hailed New England clam chowder as "Yankee Doodle in a Kettle." And with good reason: chowder, AKA "chowdah," is a beloved New England soup staple which has been enjoyed for generations.
Let's take a trip back in time through the history of chowder, while highlighting a few ways to enjoy this classic meal, along with other hearty regional soups, without even leaving the comfort of your home.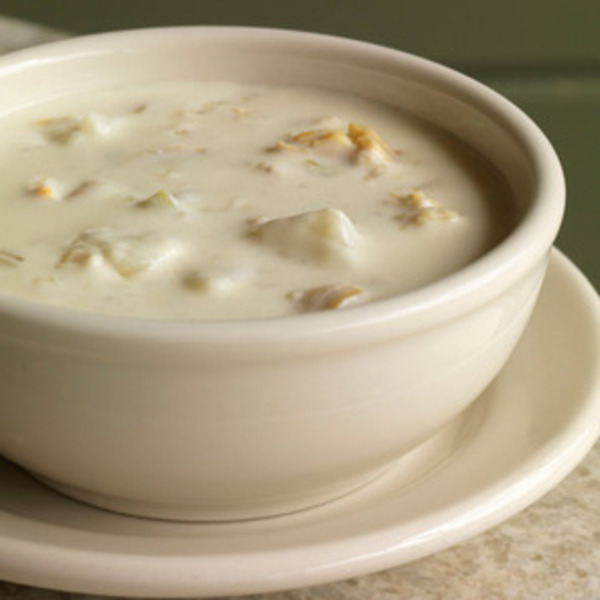 New England in a bowl.
What the Heck is a Quahog?
If you have ever traveled to New England, you have likely come across a quahog on a menu or two. If you passed because the name was a strange one, you might have missed out on a delicious treat: quahogs are simply the Native American name for clams — a name adopted by New Englanders and remains in the lexicon today.
Besides using quahogs in stews and soups, the Native Americans also made "wampum" from the clam shells by piercing them, stringing them together, and using them both ornamentally and as a medium of exchange.
While wampum may be out of the contemporary currency game, chowder remains favorite foody fare today from Connecticut to Maine, and all over the country.
What's White or Red and Delicious Regardless?
But not all chowder is created equal. The early settlers noshed on very different chowder. Depending on which side of the Penobscot Bay they resided, Mainers either cooked their chowder with tomatoes (now called "Manhattan" clam chowder) or with milk (the rich, creamy variety now known as "New England clam chowder"). Both included an abundance of other tasty ingredients — starting with clams (used for their relative abundance and harvesting ease) and layering in potatoes, onions, celery, bay leaves, and other flavorful additions.
Of the latter, Cape Codder Joseph C. Lincoln once wrote, "A New England clam chowder, made as it should be, is a dish to preach about, to chant praises and sing hymns and burn incense before. The Battle of Bunker Hill was fought over clam chowder – In part, at least; I am sure it was. It is as American as the Stars and Stripes, as patriotic as the National Anthem. It is 'Yankee Doodle in a kettle.'"
While clam chowder reached Boston by the mid-1830s, its journey was not all smooth sailing. Consider the fierce debate over adding tomatoes — one in 1939 so scandalous that State Rep. Cleveland Sleepe proposed the illegalization of adding tomatoes to chowder. However, after being brought before the Maine Hotel Association to settle the debate, the bill was ultimately deemed unnecessary.
The writer Herman Melville, meanwhile, was so enthusiastic about chowder he declared, "Chowder for breakfast, and chowder for dinner, and chowder for supper, till you began to look for fish-bones coming through your clothes."
When you've licked that chowder bowl clean, Grandma's chicken soup is waiting.
And while others have tried — Rhode Island, Long Island, and even St. Augustine, Florida all have their distinctive spins on this flavorful classic — none have managed to come as close to iconic status as those offered up by points north.
While following your wanderlust to take in New England's fall foliage and plenty of chowder is a must-do for foodies, don't fret if a trip is not in your near future. Instead, order up legendary soups and stews from the country's finest soup makers. Whether you are all about clam chowder or interested in experiencing all of the deliciousness that the country's soups — from split pea to chicken soup delivery — offer, browse all our delicious soups and more today.