Trevor Kensey is an award-winning writer, photographer and self-styled "food raconteur". To learn more about Trevor, please visit his blog, SisBoomBlog.com, where he delights readers with his inimitable style and still manages to share his most cherished recipes.
Modern grilling is about a lot more more than the basic burgers, baked beans, and hot dogs of your childhood. Outdoor cooking aficionados and aspiring backyard chefs everywhere are falling in love with foods and techniques that elevate the standard barbecue and turn it into a bona fide culinary event — think gourmet burgers, complex spice rubs, a touch of international flair, surprising ingredients, and smoked everything.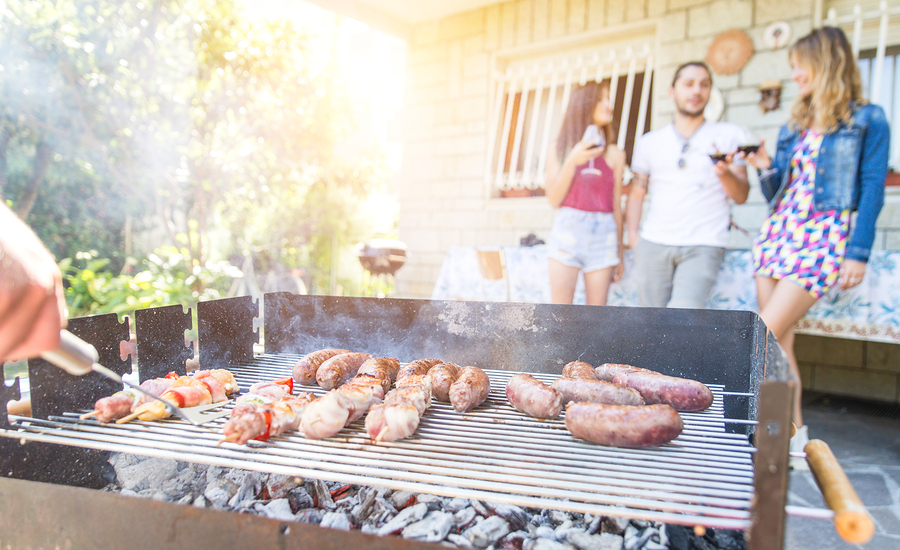 Here's what you need to know to turn your next barbecue into a gourmet grilling fete.
Think High-End, All-Natural, Restaurant-Quality Cuts
When it comes to enjoying meat, today's discriminating consumer prioritizes quality, flavor, and freshness. In terms of your gourmet barbecue, that translates into exquisite high-end cuts — think lusciously marbleized New York steaks, juicy porterhouse, and hand-cut ribeyes, like the ones in the Flannery Meats 10-steak variety pack, which can be delvered right to your door, letting you focus on the (fun) cooking component of your feast rather than the (boring) shopping part. These "California Reserve" steaks all come from a small producer, and are dry aged for 28 days — the perfect centerpiece for an over-the-top grilling experience.
Smoke It If You've Got It
Smoked everything is a trend that's really taking off in the culinary world. You can smoke your own foods with a dedicated smoker placed right next to your grill, and let your imagination run wild — enthusiastic grillers are smoking everything from meats to fish to vegetables, nuts, and even toast. Or, if you don't want to DIY, you can have that smoky goodness delivered right to your door. Smoked kielbasa, juicy slow-cooked Texas brisket, and turkey breast are just a few of the proteins that benefit from an earthy infusion of rich smoke. It's no wonder food lovers everywhere are looking for ways to incorporate smoked food into just about anything — especially grilling.
Show off your International Flair
Just because barbecue is an American institution doesn't mean you can't infuse it with a little international flair. Korean food has become ever-more-popular with the American palate, and Korean barbecue in particular is a real crowd-pleaser. You can often find ready-to-grill pre-marinated meats at most Asian markets, along with an array of ready-made Korean sauces to slather on your favorite cuts. Or, go for the flavors of Southeast Asia with a chicken or beef satay and a piquant peanut dipping sauce. You can adapt any of your favorite world cuisines to your gourmet grilling party — the sky's the limit.
The Element of Surprise
These days, grilling isn't just for meat (though that's certainly the main event). Home cooks are happily discovering that just about every food group can be elevated through proper grilling. Case in point: Salad. Kale, endive, radicchio, romaine — all of these come to life after a quick char on the grill. The addition of a bit of olive oil, flaky sea salt, and fresh ground pepper is all you need to create a flavorful and elegant side dish. Not even dessert is exempt from the magic of grilling. The sugars in fruit, for example, caramelize beautifully on the grill. For a healthy and eye catching finish, try grilled pineapple, peaches, and bananas.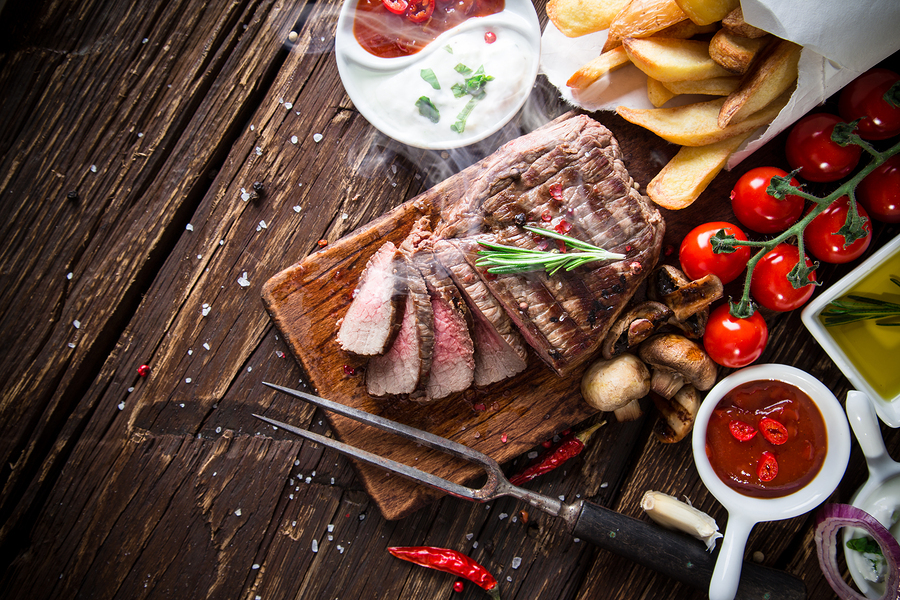 Upscale Burgers and Hot Dogs
Hamburgers and hot dogs can form an integral part of your gourmet grilling experience — but with a twist. Forgoe the pre-formed patties or store-bought ground beef, and opt for something more special, like unforgettably deicious dry-aged 100% Wagyu beef sliders. And rather than grabbing a ho-hum pack of wieners, mix things up with cheddar brats or homemade gourmet sausages and top with a grainy mustard and sweet grilled onions.
Go Bold or Go Home
Whatever meats you choose to put front and center, remember to go bold with your flavors. Spice rubs are your best friend in this case. There are a world of options to choose from, but if you'd like to make your own, try this Creole-inspired rub. It's great rubbed on everything from steak and burgers to chicken and fish.
Creole Spice Rub:
2 tablespoons powdered garlic
1-2 tablespoon fresh ground black pepper
1/2 – 1 tablespoon cayenne (or more if you like it hot)
1 tablespoon dried thyme
1 tablespoon dried oregano
1 tablespoon dried basil
2 1/2 -3 tablespoon sweet paprika
1 1/2 tablespoons powdered onion
1 teaspoon salt
1 teaspoon white pepper
Thoroughly mix all of the ingredients and keep in a glass lidded jar for storage.
Armed with the tips above, a bit of creativity and, of course, some refreshing cocktails! All of your cookouts from here on out are guaranteed to be gourmet affairs.
Are you soon to be an invited guest at someone else's gourmet grilling party? Perhaps you are wondering what you can bring that is equally as gourmet? Why not shop the tasty selection of desserts and sweets at FoodyDirect.com?