Introduction
If your family is anything like mine, Thanksgiving is all about the food. Sure, there's also catching up with the cousins, watching football, and strategizing your Black Friday shopping spree, but those are really just ways to kill time until dinner is served. If you're the host, this means a lot of pressure. It's likely the one time of the year when you're expected to serve a lavish meal to a large group of hungry people.
If you're already starting to stress out about turkey day, you're actually on the right track. Read on for a comprehensive guide to hosting Thanksgiving without losing your cool, and prepare to make this year's celebration the least stressful, most enjoyable for everyone, including yourself!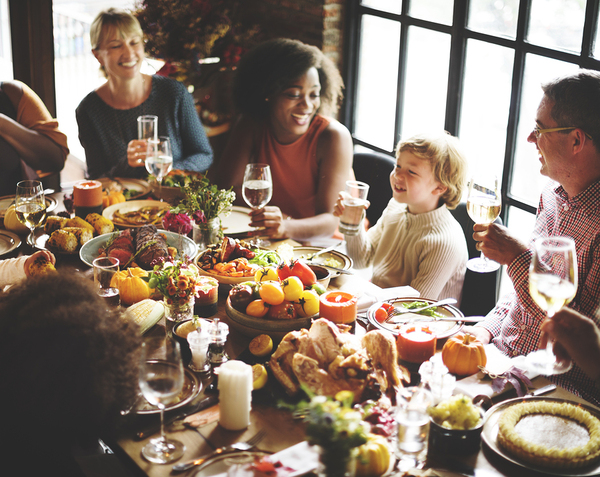 Planning Is Everything
The more time you spend planning for the big day, the less you will panic when it rolls around. Starting with detailed plans for everything from the menu to the day's timing to who's sitting where for the big meal is key to success.
Start with your guest list and get those invitations out ASAP. You'll need to know how many people you'll be feeding before you can really get down to the nitty-gritty of planning the meal, so ask for RSVPs by a certain date—one that will give you plenty of time to get in gear.
Plan it All Out
Create a detailed schedule beginning from the time you plan to serve dinner on the big day and working backwards. Detail which dishes you'll make the day of, which you'll make the day before, and which you'll make a week or longer before. Even those dishes that can't be made ahead can often be simplified by doing the prep work ahead. And grouping tasks—like chopping onions or celery that will go into multiple dishes or blanching green beans or broccoli for side dishes—can save time, too (store the prepped ingredients in clearly labeled resealable plastic bags).
Menu Planning
Next build your menu, taking into account everything from your guests' tastes to how many children and adults you'll have, and any allergies or food restrictions you'll need to worry about.
For most, the turkey will be the center of the meal, but how will you cook it? Will you brine it ahead of time? How big a turkey do you need and how long will it take to thaw (if frozen) and roast?
Especially if you've only got one oven, think about dishes that cook at the same temperature that could be cooked at the same time. If you've got a big enough oven, plan other dishes that can cook at the same temperature as the turkey so you can cook them at the same time.
While your guests will probably expect certain traditional dishes to make an appearance—like the turkey, of course—if you yearn to get creative, do it with the with dishes that are less central to the meal, like appetizers and side dishes. To please the traditionalists, you'll probably want to keep some of the classics, like your grandmother's bread stuffing, or those buttery mashed potatoes Uncle Joe can never seem to get enough of. But the side dishes offer a chance to get a bit more adventurous, throwing in some modern twists and more worldly flavors. Try a chipotle spiced sweet potato casserole, garlicky roasted broccoli with lemon and Parmesan cheese, or a savory pumpkin flan.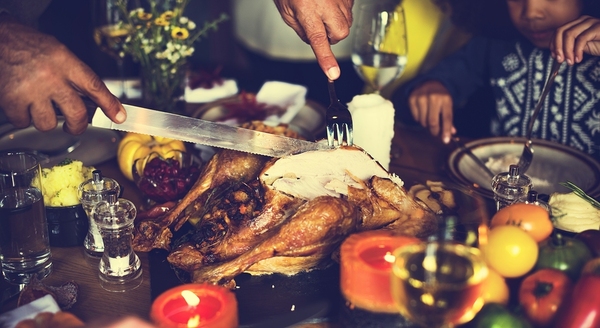 Effortless Apps
In anticipation of the gracious spread of turkey, stuffing, and pumpkin pie that awaits, your guests have likely saved their appetites to make sure they can fully enjoy it. Rest assured, they'll arrive hungry, so you need to have something ready to go. Keep it simple by offering no-cook or store-bought appetizers like dip with a platter of crudites or a platter of fine cheeses and charcuterie.
Go All-In for the Grand Finale
People dream about holiday desserts for the entire 12 months leading up to them, so make sure yours fulfill their wildest fantasies. That doesn't mean you have to slave over extravagant homemade desserts, though. In fact, dessert is one of the best courses to outsource. Let's face it, making special desserts is difficult, stressful, and time-consuming, but you can order amazing desserts from local bakeries or online and have them shipped right to your door in plenty of time for Thanksgiving dinner.
See How Holiday Meals Delightfully Transform When Your Desserts are Delivered. How about a Pecan Pumpkin Pie from Ikeda's California Country Market, a 6-pack of Anderson's Frozen Custard in Fall Flavors, or Ferrara's stunning Pumpkin Cheesecake with Caramel and Roasted Nuts?
Schedule It All Out
Once you've figured out the menu and who is bringing what, work backwards, figuring out dishes that can be made a day or two, or even weeks ahead of time. Take full advantage of the fact that most desserts, sides, and appetizers can be made in whole or in part a day or longer ahead of time. Even the easiest recipes take time, not to mention oven/stove space, so anything that can be prepped in advance should be. But don't forget to take into consideration how and where these make-ahead dishes will be stored in the interim.
Make Lists, Lots of Lists
Once you've got your menu and prep and cooking plan set, make shopping lists. Plan to make a few trips to the market—first to get long-lasting ingredients and/or ingredients for the dishes you'll be making well ahead of time, and then closer to the day, those ingredients you won't need until the day of and/or ingredients that will spoil quickly.
Outsourcing Is the New DIY
We're all busy these days and no one can expect one person to do it all. It's perfectly okay to ask guests to bring a little something—whether that's a homemade side-dish or appetizer or a bottle of wine or bag of dinner rolls they picked up at the market. It may seem like a small thing but will save you from tons of stress by taking a whole bunch of small items off of your list entirely.
Get Technological
Search the internet for Thanksgiving planning tools that can help you with everything from planning your menu to building your shopping and prep lists to getting your house guest-ready. Rest assured, if you are wondering how to organize these tasks, there's undoubtedly an app for it.  You'll find tools designed to help you build your menu, calculate what size turkey you need and how long it will take to thaw and cook, and even how to get your house guest-ready in a flash.
Keep a Record for Next Time
Oh yes, now that you've hosted such a lovely Thanksgiving celebration, you can bet that you'll be called upon to do it again (and again).
Making all of those notes, plans, schedules, and lists takes a lot of time, but they are invaluable for easing the stress of the event—both this year and in future years. Keeping all of these written details will give you a jump start on the next one, especially if you take some time to note what worked and what didn't or any changes you'd make (to recipes, to the menu, to timing, or to any other element of the day).
Conclusion
Now that you've got how to host a simple and satisfying Thanksgiving covered, why not up your game with Ways to Gourmet-ify Thanksgiving. Shop our extensive selection of foods and get everything you need to host your simple and satisfying Thanksgiving celebration.