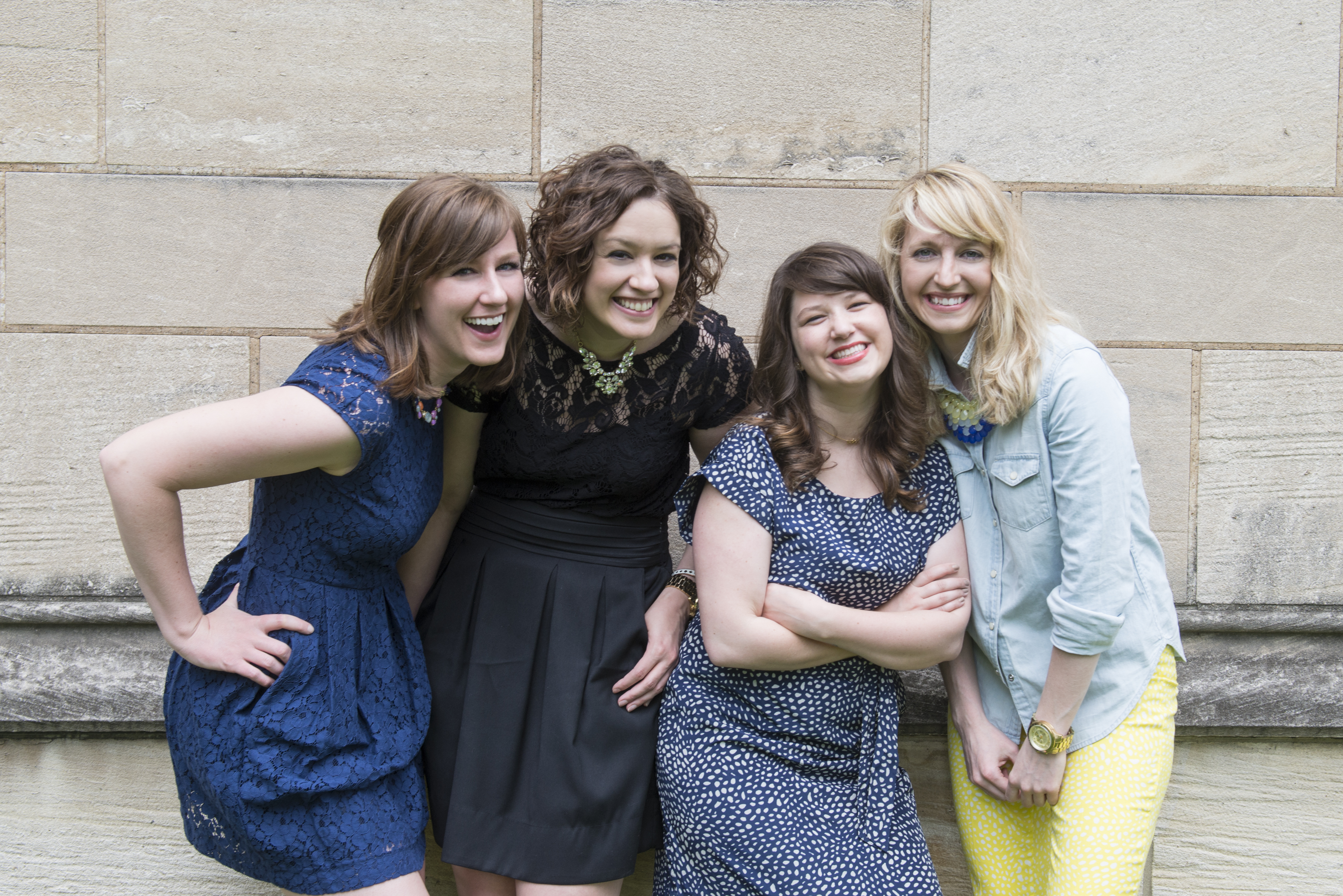 Back in the summer of 2009, foodies and Pittsburgh loyalists Julia Gongaware, Mandy McFadden, Sarah Sudar and Laura Zorch decided to create an outlet to gush about the restaurant renaissance occurring in their fair city.
While they didn't all know one another at the time, they shared two important things: a love of the 'Burgh and a very strong desire to eat.
Thus, eatPGH was born, offering honest to goodness accounts of dining experiences in and around the city. Here, the founders dish on what makes Pittsburgh such a fantastic destination for foodies, and spots you definitely need to check out while you're in town. Read on:
When did you become so passionate about food (like, enough to write about it)?
We all have been passionate about food since we were little. Whether we made or ate it, we have always been obsessed. And since we have backgrounds in public relations/marketing/writing, it was a good fit to take our food obsession online and start writing about it.
What makes Pittsburgh such a great destination for foodies?
Pittsburgh is a town where you can take a chance. The food has transformed from hearty, blue collar, steel-mill food inspired by the city's immigrants to more modern cuisine (still with these traditional influences) made by chefs who are experimenting with new techniques and palates.
We get to experience all four seasons, and with those seasons come a bounty of fruits, vegetables, greens, grains and more. Using ingredients that come from our land and prepared with the hardworking hands of our citizens, Pittsburgh restaurants provide meals that mean something. Our community has come to expect the quality of taste and service, and restaurateurs are living up to the task. They are experimenting with different cuisines and concepts, which is something we welcome with open arms.
What are the food influences in Pittsburgh?
The community influences the food scene in Pittsburgh. Historically, we were known as a booming steel town. Immigrants came from all over and made Pittsburgh their home. They brought with them cuisines from Poland, Germany, Scotland, Ireland and the list goes on. From day one, we were a melting pot of colors, flavors and scents that seemed to be preparing our palettes without even knowing what was to come. Now, Pittsburgh is once again bringing in people from the four corners thanks to the growth in the technical, medical, educational and hospitality arenas. With this growth comes challenge and expectation, which forces the commitment of our chefs to serve everything and anything.
What are some signature dishes every first-time visitor should make sure to sample while in town?
By now, most everyone has likely heard of the Primanti's Sandwich, a Pittsburgh staple created long ago for busy steel workers who craved a hearty lunch in a convenient handheld form. Your choice of meat piled high with coleslaw and French fries between two slices of fresh bread. It's quite an undertaking, but worth every bite.
But visitors shouldn't stop there. Prantl's Burnt Almond Torte, voted "The Best Cake America Has Ever Made," is a MUST for anyone craving some sugar. Toasted almonds, cool custard and fluffy cake. Literally the best.
Meat & Potatoes is making waves as one of the country's top restaurants. Their Bloody Mary bar during brunch is worth the stop in itself, but the craft cocktails, Pub Burger, Bone Marrow and Pate can't be missed.
What Pittsburgh-famous dishes do you think are overrated?
Mandy: Tessaro's burgers. Once touted as the best burger in town, they've been surpassed by tons of new joints that have crept up. I know some folks still side with them, but I'll never go back.
Laura: Primanti's sandwiches. It's a must for Pittsburgh tourists, but it's not a sandwich you call on the reg.
Julia: Pittsburgh salads. If you're not familiar, a "Pittsburgh salad" is typically iceberg lettuce with shredded cheese, chicken, French fries, and ranch dressing. Now you won't find a bigger junk food lover than me, but this salad completely eliminates the benefit of a salad.
Tell us your favorite Pittsburgh spots for …
… Breakfast: Marty's Market (Sarah), Pamela's (Mandy), Deluca's (Laura) and Dor-Stop (Julia)
… Lunch: Noodlehead (Sarah), Gaucho (Mandy), Bluebird Kitchen (Laura) and Point Brugge (Julia)
… Dinner: Crested Duck (Sarah), Dish Osteria (Mandy), Smoke (Laura) and Butterjoint (Julia)
… Drinks: Butterjoint (Sarah), Grit & Grace (Mandy), Butterjoint (Laura) and The Commoner (Julia)
… Dessert: Grant Bar Coconut Cream Pie (Mandy), Nancy B's cookie (Laura & Sarah) and The Milkshake Factory (Julia)
… Brunch: e2 (Sarah), Stagioni (Mandy) and Marty's Market (Laura & Julia)
What are your current favorite food trends?
Mandy: Pie! Cupcakes have been over for a long time, and pie is creeping in as the next "it" dessert. From classics like the homemade slices at Grant Bar to a totally underrated piece at Eat 'n Park. Plus pie-only bakeries like Piebird are finally coming to fruition!
Sarah: I like that taco joints are opening up all around town. Las Palmas in Brookine, Biba in Beaver, Tako set to open downtown soon, Renya's taco stand in the Strip, and the PGH Taco Truck – I just can't get enough of them.
What are some of your favorite non-food-related destinations we should check out while in town?
Julia: Construction Junction for unique salvaged finds, Bayardstown Social Club for some outdoor fun, Toll Gate Revival for reclaimed and vintage décor or Frank Lloyd Wright's Falling Water if you're up for a bit of a road trip.
Mandy: Jerry's Record Shop in Squirrel Hill, Pittsburgh Zoo & PPG Aquarium in Highland Park, Arsenal Bowling Alley in Lawrenceville or Caliban Books in Oakland.
Sarah: PNC Park for a Pirate's Game, The Nationality Rooms in the Cathedral of Learning on Pitt's campus or local boutiques in Lawrenceville.
Laura: La Huette Royal in Troy Hill, Randyland in the Northside, the Walled Garden at Mellon Park to see the art installation by Janet Zweig or Point State Park.
Follow EatPGH on Twitter, Facebook, Pinterest and Instagram.