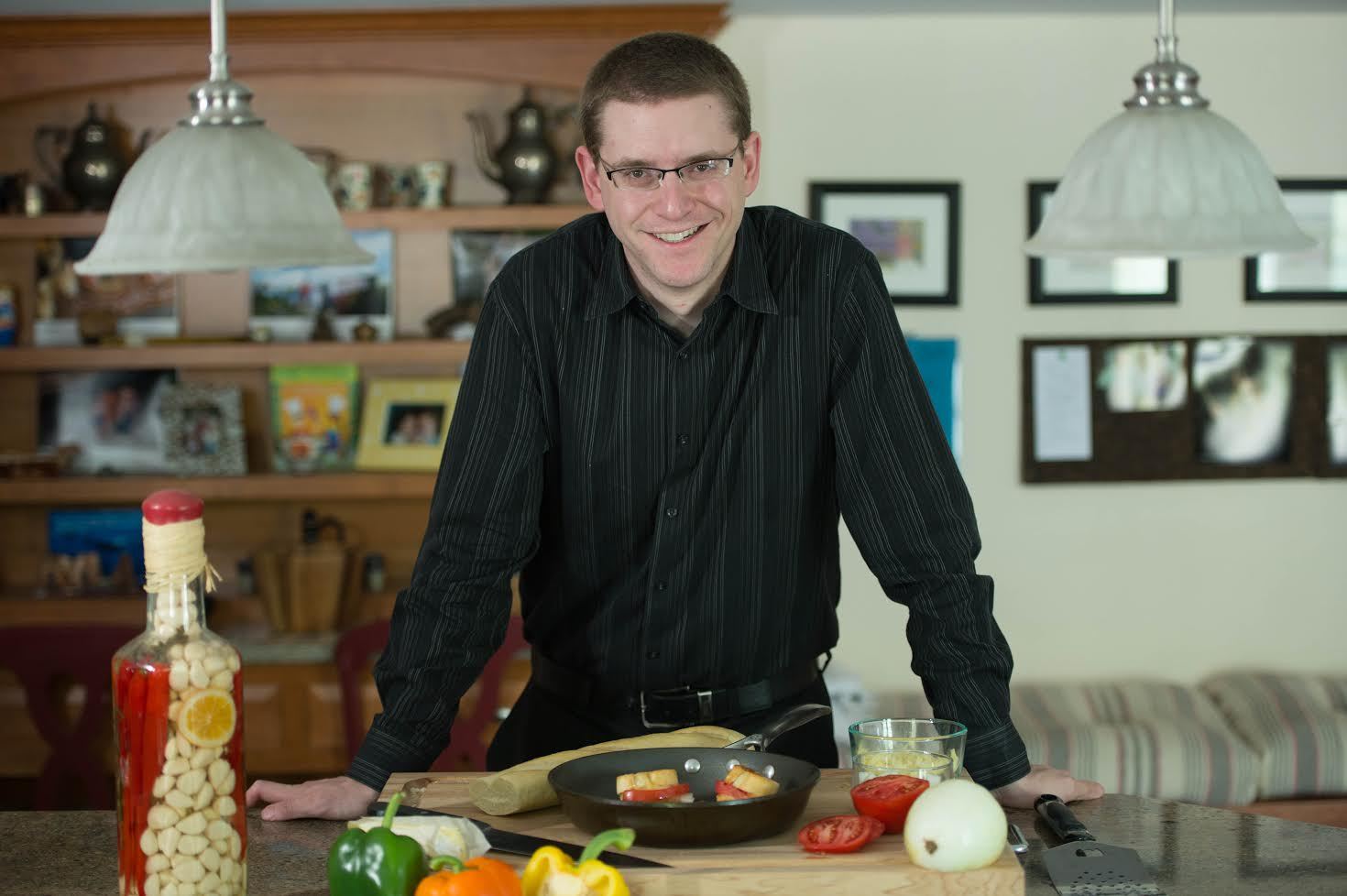 Credit Shane Kearns' mother and late grandmother for his love (or is it obsession?) with grilled cheese sandwiches.
"Using Land O' Lakes sweet butter, they would make delicious sandwiches that I wouldn't be able to resist," he says. "Even when going out to eat, I tended to prefer the grilled cheese to other things on the menu."
The founder of GrilledShane and author of Melt: 100 Amazing Adventures in Grilled Cheese recently checked in with us to talk about (what else?) cheese sandwiches. Here's what he had to say:
Can you tell us the story behind GrilledShane?
In 2009, I was interning during college, and naively thought I would be able to open a restaurant without any planning or thought. Once I realized a restaurant wasn't going to happen, I decided to start a food blog to express my creativity. Since I have loved grilled cheese for as long as I can remember, and it is such a versatile meal, I decided for my blog to focus on this comfort food. I had wanted to start a personal blog for a couple years, but I hadn't yet found a niche. With the grilled cheese, I had my angle.
I must give a shout out to my friend Kyle who actually named "GrilledShane." When I was signing up for Twitter, I had no idea what to handle to choose. I texted Kyle and after some back and forth, Kyle had suggested GrilledShane. The rest is history.
What makes grilled cheese so delectable in your book, Melt?
The grilled cheese creations in my cookbook are very unique without needing a lot of exotic ingredients or hours of preparation. They are the perfect recipes for the novice or cooking expert who simply wants to try something different. I see my creations as a guide. If a person sees one recipe he/she enjoys but included is an ingredient he/she doesn't like, he/she can simply eliminate or replace it with something more enjoyable. My recipes are a starting point to allow people to use their creativity in the kitchen.
With 50 savory and 50 sweet sandwiches, there is most definitely something for everyone. Prior to creating the cookbook, I had only made one sweet sandwich. After the cookbook, the sweet sandwiches are some of my favorites. If you like rich, distinctive creations, you will most definitely like my sweet sandwiches.
What would you say to the doubters out there who just aren't all that impressed by a hot cheese sandwich? How can we make them more exciting?
The greatness of a grilled cheese sandwich, as I've mentioned, is it is so versatile. As evident by the 100 recipes in my cookbook, there really isn't anything that can't be included in a grilled cheese – making it perfect for any palette. To personalize a grilled cheese, simply figure out what your favorite type of cuisine is and include corresponding ingredients to create the perfectly tailored grilled cheese.
What are the components of a great grilled cheese sandwich?
There are three components to a great grilled cheese:
1. Bread
2. Cheese
3. "Filling"
When choosing the bread for a perfect grilled cheese, try and break out from the white bread mold. See what fresh bread your local bakery is preparing. Or search the sandwich bread aisle for something unique. Because there are so many great breads available, white bread is no longer the only choice for a fantastic grilled cheese.
With cheese, it is best to experiment. Most grocery stores have "remnant sections" where they sell small amounts of cheese, allowing for people to experience some pretty unique cheeses without spending an arm and leg. As you try more and more cheese, your cheese palette will come into focus, allowing you to know what cheeses you do and do not like.
If a traditional grilled cheese is desired, no filling is necessary. However, when you want to try something a little more adventurous, fillings can range from fruit/vegetables to spreads (mustards, jams, etc.) to even starches or anything in the pantry. Yes, even potato chips or popcorn. Experiment and have fun trying different combinations with ingredients you love or simply want to try. As long as you enjoy the sandwich, that is all that matters.
What's the perfect pairing with a grilled cheese? How do like to round out your meal?
The most traditional pairing for a grilled cheese is clearly tomato soup. However, depending on the interior of the grilled cheese, really anything could be a delicious pairing. It all depends what you are in the mood for, whether it be salad, soup, potatoes, rice or anything else in your pantry.
What are the most unusual grilled cheese sandwiches you've sampled?
When creating 100 grilled cheese sandwiches, one tends to enter unusual territory quickly. In my cookbook, I used such unique ingredients as popcorn, pasta, mashed potatoes, various types of fish, green tea and tofu. And those are simply from the 50 savory recipes. The 50 sweet recipes push the grilled cheese envelope even more by switching out the bread for cookies, brownies and pound cake.
The most unusual and most delicious grilled cheese I have had at a restaurant is the Parmageddon from Melt Bar and Grilled in Cleveland, Ohio. As described on their website, "potato & onion pierogi, fresh Napa vodka kraut, sautéed onions, sharp cheddar." It was one of the first funky grilled cheeses I ever tried and will always be one of my favorites. Plus, who doesn't love pierogies?
What are some underrated (or under the radar) cheeses you think we should try?
I am currently focused on a lot of local cheeses that don't yet have wide distribution. However, when creating recipes for my book, I experimented with a lot of cheeses that work perfectly for dessert sandwiches. Examples would be Mascarpone, Creme Fraiche and Quark. I had heard of these cheeses in passing but had never really tried them previously. I would recommend playing with them as they can have unique textures and flavors.
We hear you're opening a cheese shop. Where will it be and when do you hope to open up?
My cheese shop will be located in Cleveland, as I want to be a part of the resurgence of this wonderful city. (I am originally from the area and currently call Cleveland home.) I am searching for locations and am continuing my research, trying to make this the best cheese shop possible. As this will be my first business, I don't want to rush into anything and therefore don't have a timeline or opening date just yet. Anyone interested in the progress of the cheese shop can follow along on the blog.
What's your vision for the shop?
Within the past year or so, I have realized that there are so many great cheeses being produced in Ohio that people either don't know about or can't find. When I want to find a specific Ohio cheese, it is a lot harder than it should be. My vision is to bring Ohio cheeses to the forefront of the cheese conversation and create a home for these amazing cheeses. I am forming unique relationships with the cheese makers themselves, allowing me to pass on their unique story to the customer.
Beyond cheese, my shop will also include other great Cleveland and Ohio products (mostly food related) that highlight the great entrepreneurial spirit being embraced.
The shop will be a destination, where people will be able to learn about and taste unique cheeses while also hear from the cheese makers themselves. I hope to create a cozy atmosphere where people can congregate and socialize. The shop will host cheese tastings as well as educational events. I don't simply want the shop to be thought of as a place to buy cheese. It will be a place to learn and enjoy cheese in a very knowledgeable location.
Connect with Shane on Facebook, Twitter, Instagram and Pinterest.