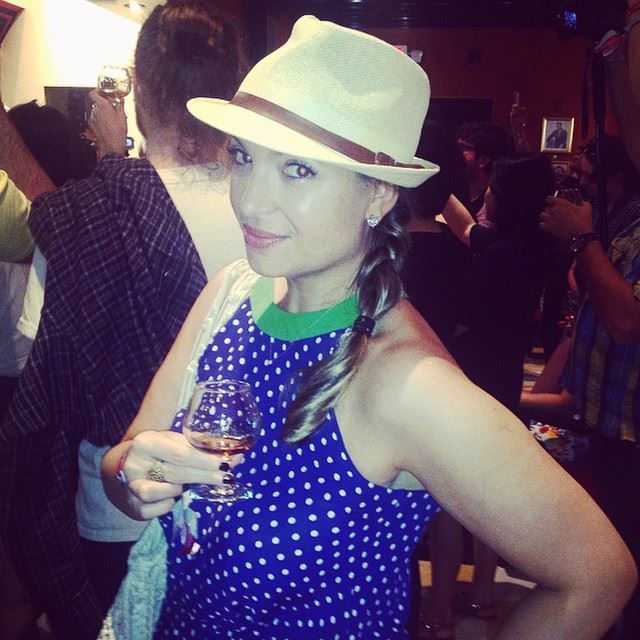 It's an exciting time to be a cocktail lover in New York City. The seasonal eating trend has crossed over into the world of spirits, and now you can experience farm-to-table style imbibing in your glass.
"The great thing and overwhelming thing about being in New York City is that there are SO many amazing places to get a beautifully made cocktail right now," says Prairie Rose, creator of cocktail and spirits blog Bit By a Fox. "The choices are vast, and the options can be intimidating. But that's a great problem to have!"
And if you'd rather stay in for a drink, the city offers many ingredients, from exotic fruits and spices and herbs to imported rare spirits. And because of the recent distillery boom in New York, you'll have access to some of the best hand-crafted spirits in the country.
Here, Prairie checked in to discuss her blog, the best places to sip cocktails in the city and her favorite cocktail trends. Read on:
Tell us about Bit By a Fox … when and why did you start your site?
I started Bit By a Fox in 2013 as a creative outlet for my obsession/passion for spirits and cocktails. My previous wine studies at the Wine and Spirits Education Trust (WSET) was my gateway into spirits. The main reason I ended up shifting my focus primarily to spirits was because there had been a change in legislature that allowed for the small batch distilling industry to thrive, and it was changing the spirits landscape around the country. And that was very exciting to me. This change was also affecting how we were preparing and drinking our cocktails. Quality ingredients were suddenly more of a concern, and the farm-to-table movement was influencing what we were putting into our glass. The focus on fresh ingredients had been going on for a while, but it really hit its stride a few years ago. I had also created countless original cocktails for a bar that I intended on opening in Brooklyn. When I decided not to go in that direction, I needed an outlet to put all of those recipes! Bit By a Fox was the perfect vessel for that!
Who should be reading it?
I get a variety of people coming to my blog. I have some serious cocktail enthusiasts and booze nerds, like myself, as well as people just discovering the world of cocktails. The tone is light and doesn't take itself too seriously and speaks to a diverse set of skills, so I'd like to think people come to the blog for the fun approach as well as original recipes and information. Most of my followers are people who like to experiment on their own, are looking to beef up their home bar and expand their cocktail skills. They like to entertain and like to be in the know in terms of what's going on in the industry, what trends are happening in cocktails and how they can get in on it. And some people just come for the booze porn. Cocktails are pretty!
From your perspective, what makes for a great bar?
A great bar is comfortable, friendly, attracts a wide variety of clientele and makes a solid drink. It also has to be a little sexy. Dark wood and good lighting doesn't hurt.
What are some of your favorite spots in the city to sip cocktails?
In Manhattan: Momofuku always does an amazing job of creating cocktails that pair well with their food. If I'm in midtown and feeling super fancy, Le Bernadin always knocks it out of the park. The Rum House is the only place you should be going to in Times Square. Pegu Club is one of my favorite places to bring people from out of town, and their food is also yummy. And, Pouring Ribbons still has one of the best cocktail menus in the city. In Queens: Dutch Kills is dark and sexy and sure to get you in trouble. In Brooklyn: Clover Club, Sycamore, Flatbush Farm, Wheated and Sunny's are all favorites.
What are some of your favorite cold-weather cocktails?
I love a well-made Old Fashioned or Manhattan in the winter months. I recently had an amazing spiced apple brandy sidecar that I could probably drink all winter long. But my go-to in winter is probably rye whiskey and ginger ale with a squeeze of lime!
What do we need to know about pairing our cocktails with the food we're eating?
We all tend to eat seasonally, and we should drink seasonally as well. The flavors and spices that emerge in fall and winter menus tend to be reflected in the glass in most reputable restaurants and bars. It shouldn't be too hard to figure out. I made a barrel-aged tequila Old Fashioned for Thanksgiving this year, with cranberries, because that seemed appropriate for the occasion. And it was delicious! But I guess what is most important about pairing drinks and food is that if it tastes good to you, then do it!
What are some of your favorite cocktail trends right now?
What really got me into the whole spirits and cocktail scene is the trend to use fresh ingredients. And this is a trend that doesn't seem to be going away, thankfully. I'd like to say, long gone are the sour mixes and high fructose corn syrup mixers, but they are still used on a massive scale in restaurant chains and tourist traps. We are slowly seeing this changing up. For instance, Las Vegas, which services an enormous amount of tourists every year, is starting to get their cocktail mojo back in a really legit way, starting with the craft cocktail bars downtown. The strip is not about to give up their clubs filled with Red Bulls and vodka, but we are starting to see craft cocktails pop up there as well. And that's a pretty big deal because that might as well be a reflection of mainstream America.
What do we need to know to order drinks like a pro?
Don't be afraid to ask questions. If you don't know what something is or what it tastes like, it's important to ask before you order and decide you don't like that $16 cocktail. And most bartenders will totally nerd out and be happy to answer your questions about bitters or Chartreuse. That's their job, and they want you to be happy.