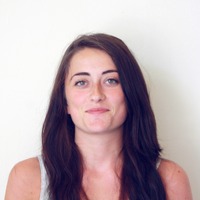 Wisconsin is over 4,100 miles from France, but they're worlds apart. Katie Zeller started out in the land of beer and curds, but traversed the globe to ultimately settle in France.
Not being a French native, Katie had to learn the art of French cooking on her own – from where to find the best produce to how to prepare a French chicken. She became a master of fantastic French cuisine and shares endless amounts of mouthwatering recipes, photos, and useful advice at her blog Thyme For Cooking.
We talked to Katie about French cuisine, why it's not as foreign as some might think, the joys of fresh ingredients, and of course, butter.
You've been in France for 8 years after starting out in Wisconsin. What were some of the most striking differences between French cooking and Wisconsin for you initially?
Salad dressings. When we moved to France, all of our friends warned us about all the things that we wouldn't be able to get here. Peanut butter and sour cream were the two main staples we would have to do without. As it turns out, peanut butter is easy to find in any shop. They were right about the sour cream, though. It doesn't exist here. I use Greek yogurt as a substitute for sour cream in most things, but I could also use crème fraiche, fromage frais or a number of other dairy products.
No one warned us about the lack of prepared salad dressings. Today, I wouldn't even consider using one; making my own is so easy and just takes seconds. It really speaks to the bigger difference, however: there are no "food helpers" here – no boxes of ingredients to which one just adds meat or water, and no canned or dry soup mixes to put in or on everything. People here cook from scratch – not because it's a new fad, but because that's just how it's done. And it tastes better.
The French are well known for cooking as they go, getting what they need for a few days at a time. How much more satisfying is food made from fresh ingredients?
I'll let you in on a secret: one of the reasons you hear so much about the French (and other Europeans) going to markets every day is so many live in cities in small apartments with small refrigerators. They have no storage, so they have to shop often.
We have a supermarket chain here in France called Grand Frais. They sell fresh fruits and vegetables from all over the world with the emphasis on local French produce. Unlike most supermarkets that have a produce section in the back, at Grand Frais the produce is center stage and fills the entire store. You can find a bit of meat and dairy in the back, but only as ancillary items.
Fresh food is serious business here. Well, all food is, actually. In my conversation group the other week, we spent the first hour talking about which farmer had the best asparagus, and the second hour about where to buy the best chocolate.
Are there any foods that simply HAVE to be fresh in your opinion?
Tomatoes. Supermarket tomatoes are totally worthless. They have to be vine-ripened and picked at their peak.
What do you recommend for people who think French cooking is exotic and strange, and who don't know where to begin?
If you go to a restaurant with two or three Michelin stars, you will find elaborate dishes plated with great precision, just like you would if you went to a Michelin-starred restaurant in the US. That's a different class and standard of cooking than what you will find in a French kitchen or even a French bistro.
French home cooking is usually quite simple. Again, the important thing is the ingredients. Lunch might be some sausages from the local butcher, a fresh baguette (fresh bread is delivered in the country in some areas), some homemade pickles, a salad with a few wedges of cheese, and a peach tart. A chicken will spend a few hours in the oven, then be finished with a fresh tarragon wine sauce.
For classic French cooking that is very easy, try Boeuf Bourguignon. Twenty minutes or so of prep work followed by a few hours in the oven and dinner is ready. My two secrets for this dish: use shallots rather than pearl onions, because they are much easier to peel. And finish the sauce with a tablespoon of rich cocoa powder to really enhance the wine flavors.
For a very easy, very French dessert, try a Clafoutis. My favorite is with peaches. Basically, put the fruit in a quiche plate, pour a sweet "popover" batter over it, and bake.
French cooking is quite well known for its love of butter. What difference does real butter make to a dish? Can you give a breakdown of the different levels and grades of butter?
It's really a matter of taste. You will find a lot of butters in the markets, and normally there will be a salted and a sweet from each producer. Find one you like and use it. The only recipe I know of that definitely uses clarified butter is Pommes Anna. For baking, it has to be sweet butter, of course; but again, it varies according to taste. In my opinion, there is no substitute for butter.
Duck fat is also popular for cooking, particularly for frying potatoes. Personally, I've never had anything other than butter or olive oil (or duck fat) in my kitchen.
In your experience, what impact can the European approach to food and the way we eat increase not only our love of food, but our quality of life in general?
If you are on the road in France at 1:00 in the afternoon, you will see cars pulling off to the side. Tables and chairs come out of the trunk, the hampers full of food are opened, and everyone sits next to the side of the road for an hour or two having lunch.
In the country, most stores still close from 12:00 – 2:00 so everyone can go home for a proper lunch. Even in the schools, the students sit and have a three-course lunch every day.
There are fast food places – McDonalds is everywhere, and you will see people grabbing a sandwich in the mall – but those are the exceptions rather than the norm. French people cherish their food and their mealtime. If possible, most French people will still gather at their parents' house for Sunday dinner. Our neighbor (where we first lived here) would have 20 or 30 children and grandchildren every Sunday, and they would be there for the entire afternoon, sitting around the table laughing and talking.
A typical family dinner is four courses: entrée, main, cheese, and dessert, followed by coffee with wine to drink. The courses are small and no one over-indulges. There's always another day and another meal, right? So relax and enjoy the people you're with and the food and the wine. Food, and meals with friends and family, should nourish the soul as well as the body.
Do you have any favorite recipes you'd like to share with us?
This is a favorite recipe that I serve as an entrée or first course. It's adapted from the French cook book "Cuisine Méditerranéene."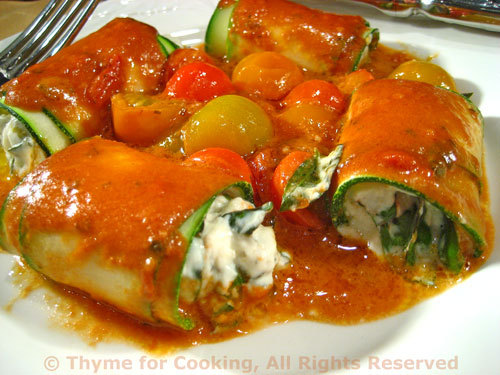 Petit Rouleaux de Courgette Farcis
(Zucchini Ricotta Rolls)
Serves 2
Thinly-sliced zucchini rolled around a ricotta herb mixture makes a lovely dish highlighting the flavors of summer. For best results, use a slicer or mandolin to get even, thin strips.
The cherry tomatoes cook down into the drizzled "pesto rosso," making a thick, flavorful sauce.
Preparation and cooking time: 45 minutes
Oven temp: 375F (190C)
Ingredients
1 medium – large zucchini, for 8 thin slices
½ cup ricotta cheese
10 pimiento-stuffed green olives, roughly chopped
1 handful fresh basil, chopped
15 – 20 cherry tomatoes, cut in half
2 tbsp pesto rosso (red pesto sauce) see below
2 tbsp red wine
2 tbsp olive oil
Instructions
Using a mandolin or slicer, slice the zucchini the long way into slices 1/16th inch thick. They need to be thin enough to roll easily. I sliced until I got to the seeds, then sliced the other side, avoiding the seeds. Zucchini is so plentiful; I decided I could waste a bit to get nice slices. Make 8 slices.
Mix the ricotta, olives and basil. Divide the mixture evenly between the 8 slices of zucchini and roll up.
Drizzle 1 tbsp olive oil in the bottom of a baking dish. Lay the rolls, seam side down in the dish, keeping separate. Distribute the cherry tomatoes around the rolls, tucking into the oil.
Combine the remaining 1 tbsp olive oil with the pesto rosso and red wine. Spoon over rolls.
Bake, covered, 375C (190C) for 30 minutes. Remove and serve.
Pesto Rosso
Total time: 10 minutes
Ingredients:
3 Roma tomatoes, peeled
1 cup basil, leaves only, lightly packed – meaning somewhere between crushing it into the measuring cup and dropping it in.
1/4 cup fresh Parmesan – to measure cut in small cubes
1/4 cup ground almonds
1/4 cup pitted, dry-cured, Greek olives
1/2 cup good olive oil – or enough to get the consistency you want for the sauce
2 cloves garlic
Instructions:
Put everything but the oil in a blender.
Add 1/4 cup oil and blend. Add more oil as needed. It really depends on how tightly you packed the basil and how big the tomatoes are.
Leftover Pesto Rosso can be tossed with pasta or cooked potatoes, either hot or cold.
For more updates from Katie Zeller, follow her on Facebook, Twitter, Google+, Pinterest, and connect with her on LinkedIn.