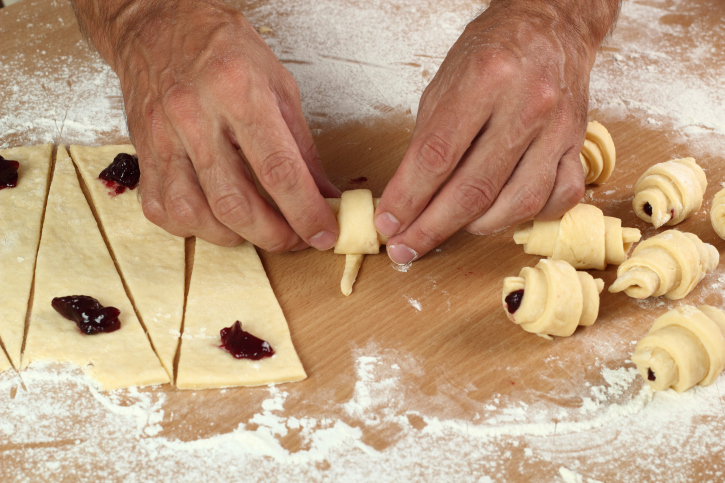 On his blog Joe Pastry, food writer Joe covers the intersection of baking, history and science. We asked him how such seemingly dissimilar topics are related, and he said we'd be surprised at how much they have in common.
"Not many people realize how closely tied the pastry arts are to technology," Joe says.
Over the past couple hundred years or so, he says you can actually see how advances in milling, chemistry, ingredient refining, preservation and machine building directly led to innovations in pastry and confectionary.
"Pastry makers are like artists, architects or magicians in that way, always looking for the technical edge that will help them realize a vision," he says.
Joe is a consummate foodie. Born and raised in Chicago, he started working in the food industry at 15 as a line cook. For the past 20 years, he's worked as a marketing consultant specializing in food. On Joe Pastry, he examines baking techniques, shares recipe and discusses the history of some classic pastries you love.
Read on to learn more about why he loves food and where he loves to eat.
Tell us about Joe Pastry … when and why did you start your site?
I started the site in 2006. I'd just closed up a short-lived baking business that I'd launched here in Louisville and really didn't know what to do with myself. I'd been baking every day for several years by that point and hated to give it up. Before I got into baking, I'd been an advertising copywriter in the food and food ingredients industry, so I had some history there, and blogging was getting big around then. So I decided to put the two interests together. There were already several very successful food blogs going at the time, but no one was approaching baking from a technical angle. It was a niche I decided to fill.
What's one of the most interesting cooking/baking/food-related questions your readers have posed to you? How did you respond?
Wow, that's a hard one. I'm very lucky in that I have a very smart and imaginative readership. The pastry arts attract technically savvy, detail-minded people, so I steadily receive questions that stymie my ability to answer them. When that happens, I have to dive into technical papers or call one or another food scientist that I know to get the answer. That's one of the most delightful aspects of the blog for me. I'm constantly getting pushed by my readers to keep learning. It's both enriching and humbling since it's hard to keep up the pretense of being a know-it-all when you're constantly forced to say "um … ."
How did you become so passionate about food?
It started when I was about 10, when my twin sister and I set out to make a Saturday night meal for my parents, aunt and uncle. I attempted and somewhat succeeded in making gougères and then spun sugar for the dessert. Turning white, flowing granules of sugar into a plastic threads of caramel made me feel like a mad scientist. I've been interested in food chemistry ever since.
Who are your inspirations in the kitchen?
Definitely Alton Brown and Harold McGee, who together made it cool to be a kitchen nerd. Then, of course, Julia Child. She was not only an excellent cook, but a master of making the complex seem achievable. Sir David Attenborough isn't a chef, but he is the consummate explainer, and he continues to be a huge influence on the blog. Baking-wise, my biggest influences are Gaston Lenôtre, Roland Mesnier, Rose Levy Beranbaum and Peter Reinhart.
What food trends are you most excited about today?
That's a hard one since the blog is more about classic techniques than anything else. I rely on my readers to alert me to trends like the cronut, the craquelin and the marveilleux. Otherwise, I wouldn't know much about what's going on!
Where are your favorite places to dine out in the Chicago area? What do you like to eat there? What sets them apart?
When I'm home in Chicago, I eat hot dogs at Vienna Beef and Italian beef sandwiches at Al's No. 1 on Taylor Street. It's pretty much all I have time for when I travel there on business.
What about in your current hometown?
Here in Louisville, my favorite restaurant by far is Lilly's on Bardstown Road. Somehow Kathy Carey always manages to be on-trend without seeming trendy. Everything she does is imaginative and rooted in solid technique. I can't recommend her restaurant highly enough. Other than that, I eat at Morris Deli & Liquors a lot, as it's near my house and they have the best restaurant counter in the city. Their barbecued lamb and beef sandwich is the food of the gods, though the home-smoked tuna salad sandwich is a very close second
Name a few standout bakeries you've visited over the years. What would you recommend we try at each?
Would you believe I don't go to many? Louisville has Blue Dog Bakery, which is probably the best crusty bread in town. I bought some very nice little tarts once at Cake Flour, a boutique pastry shop, and I like the cinnamon buns at Breadworks, which is again close to my house. What can I say, I'm a lazy guy. But also a do-it-yourselfer. I don't buy very much out; I'd rather make it.
Connect with Joe on Twitter and Facebook.