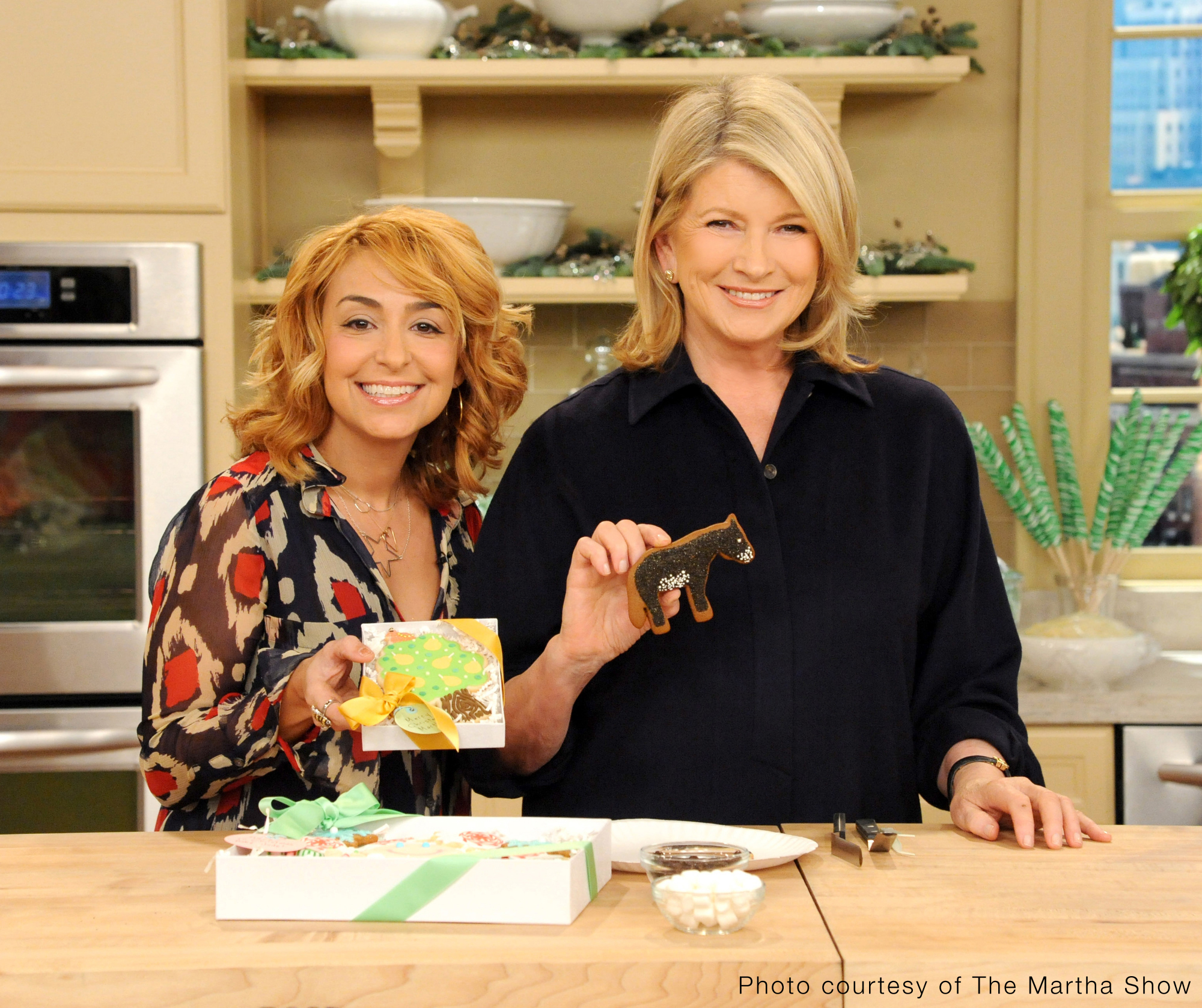 Much like the rest of us, Daniele Boglivi-Fiori's love affair with cookies started (where else?) in childhood.
"I am ultimately a real life cookie monster (chocolate chip cookies are my very fave) so my love of cookies started young with Sesame Street, Hydrox instead of Oreo sandwich cookies (my mom was ahead of her time with organic and natural products) and followed through with the Brownies and Girl Scouts (Samoas are my fave GS cookie)," the cookie connoisseur told us recently.
In college, she developed a strange obsession with Fig Newtons – even writing a paper about them. While planning her wedding, she came across the idea of decorated cookies as favors from one of Martha Stewart's magazines, but got discouraged about the time investment and opted for another gift.
Fortunately, her best friend Tamara showed up at the rehearsal dinner with a platter of packaged heart-shaped cookies that she made as favors and encouraged Daniele to give cookie decorating a try.
Lucky, for all of us cookie fans, Daniele took her friend's advice.
Today, she owns SweetDaniB, a party design service that specializes in custom-made, work-of-art cookies. Here, she shares how cookie adventures (including how they helped her work with Martha) and favorite spots to dine out when she needs a break from the kitchen. Read on:
Tell us about SweetDaniB. What services do you offer? Who should be using them?
My main goal with SweetDaniB is to enhance the celebrations of all of life's occasions and to make those celebrations as amazing as possible. Love is in the details. We can design the theme of your event and take it from save the date to invitation to favor (most often, cookies) and thank you card. Some clients start with us at the beginning of an event, and others just go right for the sweets – that's where the cookie side of our business comes in.
Within my expertise of party and event design, I also happen to be a decorative cookie expert. Clients are brides and grooms, Moms-to-be, birthday party celebrators, and so on. The variation of clients is what make this job so much fun. This week we are working on an Emoji Bas Mitzvah and a 3rd Birthday Princess party.
What's your professional background?
I graduated RISD with a major in Illustration (but also with strong love of photography and fashion, both of which I dabbled with in college). I landed a job at Ralph Lauren shortly after college and worked in the Men's Graphic Design department for five years, before changing jobs and working for RL Creative Services for another five years. I credit that job, watching seasons and seasons of designs start at concept and follow that concept all the way through to being full-on displays in store windows, for my expertise in theme/story development. One of my favorite things about working with brides and grooms and developing their wedding theme is "What is your story?"
I left Ralph Lauren to start my own business a few years after we got married in 2001; but when the economy crashed, people were not spending the money they previously had been on events, so I had to get back to work. My best friend Tamara (we met at RISD) was working as a stylist on the Martha Stewart Show and recommended me for a freelance position. I spent that next year working as a freelance stylist going with Martha to her other TV appearances – the "Today Show," "The View," "David Letterman" – it was an incredible, amazing, learn-fast, trial-by-fire, do-it-now intro into the world of "live" television and styling as a profession. I joined Martha's amazing TV art department staff about a year later as a senior stylist. In 2009, our art department won a daytime Emmy (where I met Elmo on the red carpet).
In the years I was there, the producers had heard about my event and cookie business and invited me to do a segment on air with Martha. The segment went great and I became a frequent guest on the show. Once I began selling my SDB Expert Icing Bottle Kit, Martha gave me the most amazing on-air plug ("look into the camera and say the name of your website" she said) and my business really took off. At the end of that season, I was so busy with orders I made the difficult decision to leave the Martha Show to work on SweetDaniB full time. Luckily, I still freelance with Martha and MSLO and keep up with everybody but working there was truly the job of a lifetime.
What inspires you in the kitchen?
Quality, fresh, beautiful, colorful ingredients. I am a champion of organic, farm fresh eggs (how yellow orange is your yoke?), dark chocolate chips, good butter and quality sea salt. Even though I spend a lot of time baking for my job, its also something I love to do in my free time or if I'm feeling blue. I also love love love to cook.
What are some of the most unique/strange/fun cookie designs you've been asked to do?
A semi-nude lawyer groom for a bachelorette party was definitely the craziest and always comes to mind when I get asked that question!
My people cookies are certainly the most standout. I have a strange ability to capture people in cookie form; and in the past few years, that has translated into dogs and cats. We do a lot of dog cookie favors for events lately, which is such a cute way to incorporate your furry beloveds into a party.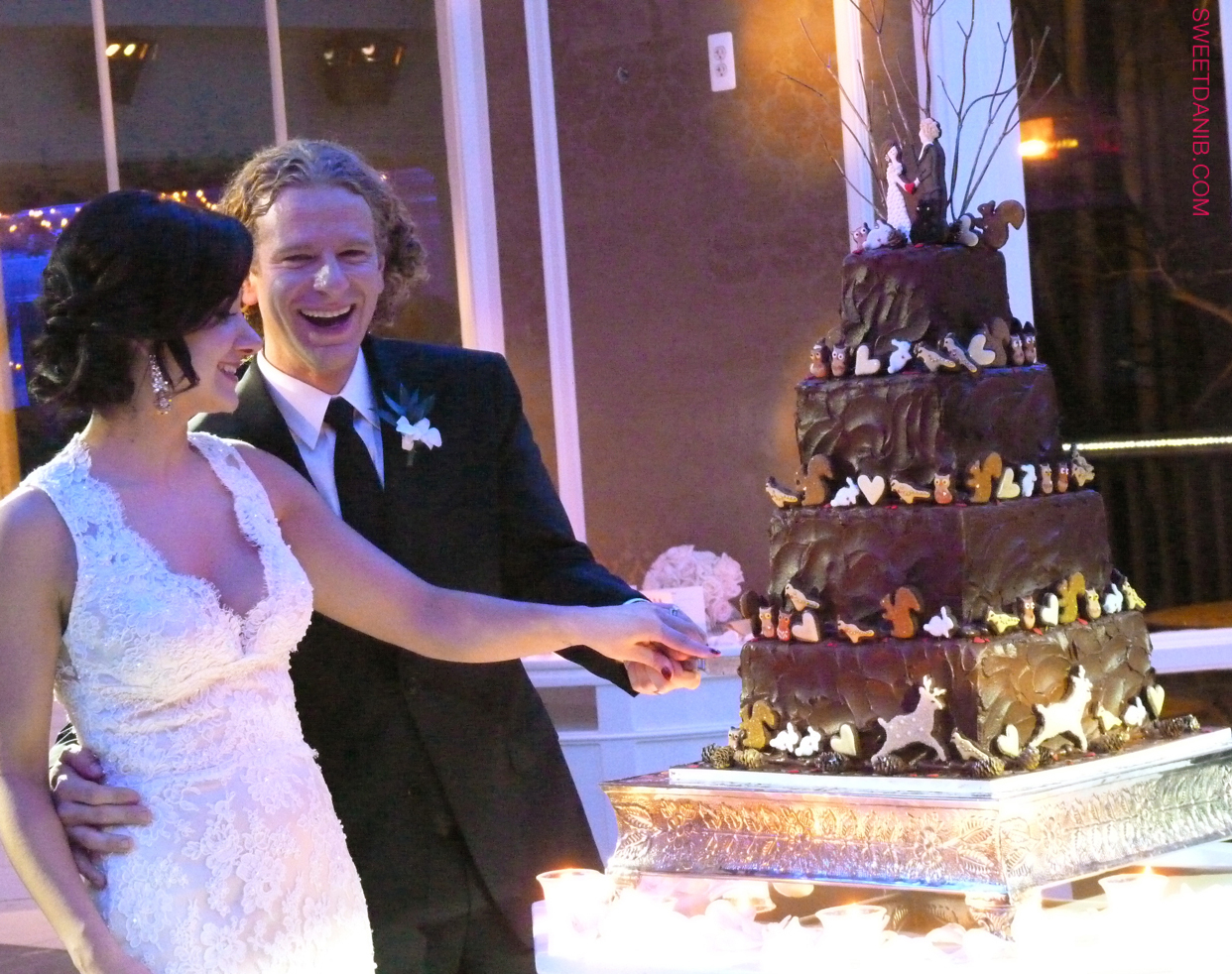 One of my very favorite jobs was decorating my brother's wedding cake (which was chocolate – amazing) with over 100 mini animal cookies. His wife is an animal lover; and since they got married in December, we went with a woodland wedding theme with all the little creatures of the forest as mascots. Once the cake was cut, every guest got a mini cookie animal with their slice.
Why do you think presentation is so important when it comes to food (cookies or otherwise)?
Love is in the details and in the effort made for beautiful presentation. That said, that effort does not have to be crazy and overdone. Some of the most beautiful food photography is simple food + simple background. Lighting is really everything in food photography- it is the entire difference between yum or yuck. (When in doubt, go with the sunlight or a warm filter)
What have been the most interesting adventures your cookie business has taken you on?
Most recently, my cookie business brought me to the "Steve Harvey Show" during that first crazy blizzard in January. While everyone here was bracing for it, I was at Newark airport arguing with a flight attendant about where to carefully place my carry-on that "didn't close properly" filled with delicate cookies for display on the show! (If you were on that flight, I am so sorry!) I got stranded there for an extra day, and I must say it was pretty amazing to have that time to see the city of Chicago for a bit.
I will definitely be back to check out the rest of that food scene – AMAZING! While I was there, I snuck in visits to the new Dylan's Candy and Eataly and had an amazing Jean-George dinner at my hotel. I also stalked the Ralph Lauren Restaurant for a cocktail, but didn't want to walk in when I read "Proper Attire" on the door (I was wearing UGGS and all I could picture was my old co-workers not wearing UGGS). 🙂
You also describe yourself as a wine snob and a hard-core foodie. What do you look for in a standout meal? What about a standout bottle of wine?
I wish I could say I was a wine expert, but I really just know what I like (full-bodied red) and am good at reading reviews and picking bottles (I chalk that up to watering experience). I also use what I like to call the "empty shelf" review system … if I'm in a wine store and there are only one or two bottles left in a row and the price is good and other criteria met, I will often try that bottle.
I am a snob in the sense that wine served at concerts, "dive bars" or outdoor venues and events is usually so bad it's not worth drinking; but it does not have to be that way! One of my very favorite procescos is the Sophia Coppola cans! Adorable and delish! I recently bought a pinot noir in a can and it was amazing! (Are you listening winemakers? More single-serving alternatives needed.)
I love a good meal, but that meal can be had anywhere: side of a truck, burger joint, pizza place or fine food establishment. Ever since I saw "Food Inc." all those years ago, I am particular about where I eat burgers and meat from, and I never purchased non-organic chicken again.
Where are some of your favorite spots to dine out when you're home?
I love to go out in NYC; but since I no longer have a desk there, it's harder and harder to get in from New Jersey these days. In Hoboken, I am partial to the place I waitressed; it's a much-loved pub and neighborhood spot called Onieals. (Its also where I got the nickname Sweet Dani B). They have good martinis, a great wine list, delish burgers and pastas; but I am partial to the blackened angus (rare please, black and blue actually).
Some of my fave restaurants right now are in Asbury Park, N.J.: Porta on the fun, easy, casual end, and Pascale and Sabine on the fancier. We also just had the most delish dinner to celebrate my birthday at David Burke's Fromagerie in Rumson. I can't wait to go to dinner at Jockey Hollow in Morristown, N.J. We had happy hour cocktails and oysters there recently, and it is exciting to see a restaurant like that in New Jersey.
What are some of your favorite foodie blogs?
I am sad to say I don't have a ton of time to keep up with blogs – in that free time I'm on Pinterest (totally obsessed) or Instagram – but when I do have reading time, my choices are a mix of food and fashion with a smidge of lifestyle: Smitten Kitchen, They All Hate Us and, of course, the Martha Blog!