Melanie Carr is the founder of Dish Dish, which inspires families around the world to enjoy meals together, saving and sharing favorite recipes digitally. We recently sat down with Melanie to hear her thoughts on today's cooking trends, and learned that foodies don't have to be master chefs to prepare exotic, delicious dishes.
Tell us about Dish Dish. How does it differ from most other recipe websites?
One of the things that makes Dish Dish different from other recipe websites is the social aspect of the site. Members can "friend" their friends or family members on Dish Dish and view their Friends' Cookbooks with the click of a button – making it easy to share recipes among friends and family.
At Dish Dish, members can also download their entire collection of recipes as a PDF that they can save to their computer or share, making it easy to keep a local electronic copy of all their recipes while also having them in the online database.
Additionally, we offer a Recipe Upload service, as well as a Digital Recipe Album package (perfect for organizing an entire family recipe collection) through which members can mail or email recipes, and we will type those into their account for them.
Members can choose to keep recipes private or public, add photos and notes, and scale recipes to size with the click of a button (recalculating all ingredients required for 6 servings instead of 8, etc.). Our grocery shopping list tool, menu planner, and Recipe Import Tool also make it easy for members to plan meals, organize recipes, and remember what they need at the grocery store – all in one place.
What are some of the cooking trends that you're seeing today?
We definitely see trends towards cooking with fresher ingredients, with preferences towards locally-grown produce, which is fantastic for farmers and farmers' markets. I think sometimes people are amazed at how simple it can be to cook with fresh ingredients, which don't necessarily require a lot of additional time.
Another trend is towards meals that are generally quick to make and get on the table. Most families would like to have more family meals together but also feel rushed most evenings and don't have the desire or energy to put too much time into meal planning, prep, and cooking. I like helping families see there are lots of ways to do just a little planning ahead and enjoy a family meal together without spending hours in the kitchen each day.
Is it possible to be a foodie even if you can only master simple recipes?
I think that being a foodie is all about enjoying experimenting with different types of foods, ingredients, and combinations. It's about savoring the simple things as well as being intrigued by trying new ideas.
So, yes, I think you can be a foodie even if you only master simple recipes. But I think that in the end, a real foodie will not be content with those recipes and will desire to improve upon them or add more challenging dishes to their repertoire.
Are there any ingredients that every foodie should always have in their pantry or refrigerator?
We offer a Check-List for stocking the pantry for everyday easy meals, and it's a fairly comprehensive list with various categories. However, there are some basic mainstays that I think any foodie would always want to have on hand.
Broths or the makings for broth (whether beef, chicken, or vegetable) are essential. Just about every dish tastes better when the base is cooked in broth instead of water; whether cooking rice, pasta, veggies, sauces, or soup, broth terrifically enhances the flavor.
Sea salt is another go-to ingredient that's great to have on hand. It doesn't take as much to really get a good savory salt flavor, and it works very well for sprinkling over fresh vegetables before roasting or adding a sprinkle to a dish just before serving (also tastes amazing as the salt for homemade soft pretzels).
Olive oil is a definite necessity. Whether cooking, baking, or roasting meats or veggies, it's such a healthy all-purpose oil. Of course, mixing it with a little bit of ground black pepper, balsamic vinegar, and some thyme also makes a tasty dip for fresh bread.
Your site features recipes spanning dozens of different types of cuisines. Is there any type of cuisine which you tried and were surprised by how much you liked it?
Dish Dish offers recipes in a wide variety of cuisines – Italian, German, Mediterranean, Chinese, and many more. I think I would have to say the Indian cuisine is one that I liked more than I thought I would. It isn't a cuisine that I cook, really, but I enjoy the flavors and intricacies of the cuisine.
Given how interactive your site is, have there been any new cooking tips or techniques that you've learned from the members of the Dish Dish community?
In recent months, a few of our members have been making dishes using a spiralizer with veggies to make pasta out of zucchini or squash. It's a fun idea, a healthier way to enjoy common pasta dishes, and a new way to dish up veggies for the family.
Do you think that people are baking cakes, breads, pies, and other sweets as much as they were a generation ago?
Sometimes it seems like there are fewer and fewer people doing real baking these days. They're often scared off by how much work or time it will take, or think it's going to be too complicated for them to figure out. However, simple breads, pies, and cakes are made so much easier these days with the availability of boxed mixes and pre-made pie crusts.
On the other hand, I see many people inspired by TV baking shows and new-fangled cupcake or cake decorating tools and want to try their hand at baking a little more often.
I think generally people are baking less, whether for health or dietary reasons or the feeling they don't have the time or skill necessary to do it well.
Do you have a user-friendly recipe that's perfect for a foodie who is a novice at baking?
These quick yeast rolls are the perfect recipe for a novice foodie who wants to try their hand at baking. Yeast bread often scares people away; they're afraid of messing it up with too little or too much kneading, too little or too much flour, etc. These rolls require no kneading or guessing how much flour to add to the dough. They only have to rise for about 30 minutes before baking and are delicious!
Ingredients:
1 package active dry yeast
1 cup lukewarm water (not too hot)
1 egg
1/4 cup sugar
1 teaspoon salt
1/4 cup vegetable oil OR melted butter
3 cups flour
Directions:
In a large bowl, dissolve yeast in lukewarm water (let sit for a couple of minutes to dissolve well).
Add egg, sugar, salt, and oil or melted butter to the bowl.
Add half the flour and beat mixture until smooth. Add the rest of the flour and beat again until smooth. Fill greased muffin pans half full and allow dough to rise to twice their size (about 30 minutes).
Preheat oven to 400 degrees F. Bake for 12-15 minutes until lightly browned. Brush tops with butter while still warm.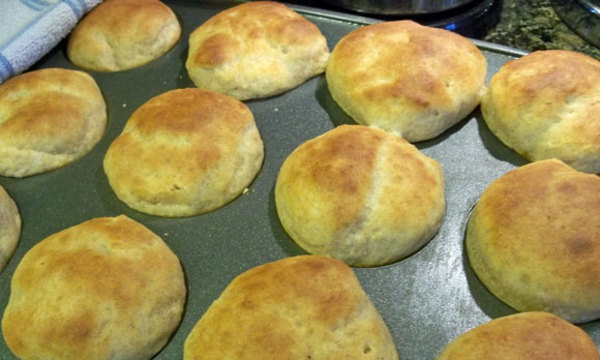 These rolls are truly yummy and my family always enjoys them.
Looking for mouth-watering bakery and dessert items? Check out FoodyDirect's selection today!