For their fourth cookbook, A Seat at the Table, Brent Ridge and Josh Kilmer-Purcell the duo behind the popular lifestyles brand Beekman 1802, wanted to write a love letter to their adopted hometown of Sharon Springs, N.Y.
Back in 2007, the pair bought a historic farm in the rural upstate New York community, intending to use it as a weekend retreat from their hectic lives in New York City. But when both men lost their jobs at the height of the financial crisis, they realized their farm getaway would have to serve a greater purpose if they wanted to survive.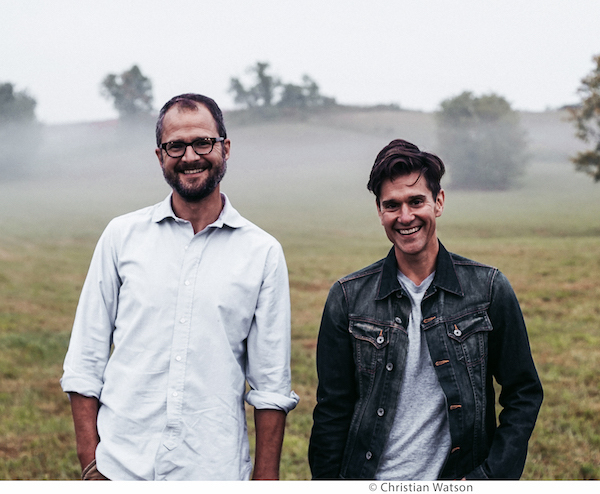 So Brent and Josh learned to work their farm with the help of their neighbors and decided to build a website and mercantile featuring the goods produced by local farmers and artisans. A decade later, their brand, Beekman 1802, includes a TV show, store, multiple best-selling cookbooks and a memoir.
They began writing A Seat at the Table more than two years ago, and Brent said they could see the beginnings of the cultural divide that the U.S. is experiencing right now. Today, they see those divides getting bigger and bigger.
But they see food and community as a way to bridge those divides. The experience moving from New York City to Sharon Springs, taught both Brent and Josh that if you are going to live in a community, there are going to be many different types of people.
"In a city where you have 11 million people to commune with it's easier to find people who think the way you do," Josh said. "In a community of 547 people, you're never going to find a large group of people who think the way you do."
Being a part of their new community meant overcoming differences and finding common ground. And not just finding common ground, but learning to rely on their neighbors– becoming interdependent with the people that lived around them.
This is the thread that ties together A Seat at the Table.
"It really is kind of a love story to our own community," Brent said.
Food as the Universal Language for Building Community
The message they hope readers take away is that whether you have lived in a place your entire life or come in as an outsider as they did to Sharon Springs, there's no reason you can't build a strong community.
"The inspiration for this book was the community on which our farm is based. And the idea that we've really based our business on working with a community and getting to know our neighbors," Brent said.
And there's no better way to get to know your neighbors than through food.
"Food is almost a language in a small community," Brent said. "It's a thank you, it's an I'm sorry, it's an I'm here to help."
When it feels as if there is too much divisiveness, Brent and Josh believe there's nothing that inviting someone to a seat at the table can't fix. That food can nourish people in more ways than one.
To illustrate this idea they focused on recipes that could be easily scaled – dishes that could work for two to four people, but also expanded to satisfy 30 people. They also filled the book with what they describe as heirloom recipes– recipes that have been made so many times in a family that they have specific memories tied to them. The dish your grandma always makes at Thanksgiving or the cookies you always want to eat when you're home from college.
Heirloom recipes must have three qualities, Josh and Bren said: It has to be delicious, easy to make and the ingredients have to be easy to find. These components make these dishes ones that can be made over and over again.
While marketing the book, the pair has been traveling across the country hosting potluck dinners and asking people to bring their own heirloom recipes to share. It's a really great way to bring people together Brent says because the dishes are easy to make, which takes the pressure off entertaining.
The Flavor of Freshness
Moving to the farm has introduced Josh and Brent to their favorite new flavor: Freshness.
"We live so far from a grocery store. We really are limited to what's growing in the garden– what's becoming ripe," Josh said. "There's nothing like something you just picked. Even going to a farmer's market doesn't replicate that flavor."
Not only has raising their own food allowed them to eat the freshest food, it's also helped them appreciate what they're eating a lot more. Brent said that as Americans, we often seek instant gratification– if we have a craving for a particular type of food we stop by the grocery store and get it. But when you're relying on food that you've raised, there are times you don't get to eat whatever you want.
The day they were interviewed, Brent and Josh were in the middle of canning tomatoes. When they run out of their last can of tomatoes in January or February, Brent said they wouldn't have another tomato until next summer– and missing that flavor only makes their taste buds looking forward to it even more.
"When you take that first bite of that first ripe summer tomato that you pluck off the vine, it tastes like the most amazing thing you've ever put in your mouth," Brent said.
What they don't grow at their farm, Josh and Brent source from their neighbors. Not only is it convenient, but the food also tastes better and they see the direct impact they're having in their community.
"In an area where there's absolutely no other industry other than agriculture, it's almost offensive to buy food from outside the area."
While they know going to a farmer's market can be more expensive than a grocery store, Josh and Brent encourage their readers and fellow food lovers to spend 5 percent of their weekly food budget at farmers markets.
"If everyone was doing that, it would make such a phenomenally huge difference to that local farmer and that community," Josh said.
The pair has embraced the opportunity to shine a light on their neighbor's farms.
When Target approached Beekman 1802 about creating a capsule food collection, they knew they wanted to use as many locally sourced ingredients as possible. They approached a local herb grower they'd met at the farmer's market about using her herbs in their sauces. In fact, they sourced many of their foods– from herbs and honey to tomatoes and beans– from small farmers across the country.
What happens when they're craving flavors they can't get locally?
Brent says they turn to spices.
"You can create any type of dish you want as long as you have seasoning," he says.
This past winter they found they had a hankering for Thai food­– they just used the ingredients they'd grown or sourced locally and combined it with the right spices to satisfy their taste buds.
They like to keep it simple when it comes to cooking– and they wish more Americans would do the same.
"I wish people would relax about what they're eating," Josh says. "If you're not chasing the latest diet or trend or health craze, you don't worry as much about food."
Their go-to dinners are straightforward: Meat, vegetable, grain.
When they get home from work, they'll thaw out whatever meat they got from a neighbor, pick some vegetables from the garden, throw in a grain or pasta and that's it.
With the cooler months coming up, they're looking forward to making some of their favorite comfort foods from their new book.
Brent's favorite going into fall is Beef Chili Masala, an Indian-style chili that he describes as a cross between chili and curry.
Josh's favorite is the Chicken Apricot Pot Pie– a traditional potpie that uses Moroccan spices.
"We're homebodies. We have our ideal eating experience every night," Josh said.
Here's your chance to try out some of Brent and Josh's favorite comfort foods:
BEEF CHILI MASALA
MAKES 4 TO 6 SERVINGS
Garam masala is a blend of spices that you find in every Indian household, and you can easily find the blend in your neighborhood grocery store. This aromatic mixture usually contains black pepper, cardamom, cinnamon, cloves, coriander, nutmeg, and turmeric, and takes chili from ordinary to extraordinary. Serve this flavorful chili with basmati rice, lime wedges, yogurt and chopped cilantro.
½ teaspoon red chili powder
½ teaspoon turmeric
¼ teaspoon black pepper
1 teaspoon coriander seeds
½ teaspoon fennel seeds
¼ teaspoon cumin seeds
3 tablespoons butter
1 cup coarsely chopped onion
3 cloves garlic, mashed
1 quarter-size slice fresh ginger, mashed and chopped
1 scotch bonnet pepper (scotch bonnets are very hot!) or ½ teaspoon red pepper flakes
1 pound ground beef
One 14.5-ounce can petite diced tomatoes
1 cinnamon stick
1 star anise
1 teaspoon mango powder or the juice of a lime
1½ teaspoons salt
1 teaspoon white vinegar
3 small potatoes (any type you like), cut into small cubes (about 1½ cups)
½ cup frozen peas
1 teaspoon garam masala
1 tablespoon chopped fresh cilantro (or to taste)
In a large heavy-bottomed saucepan or Dutch oven, toast the chili powder, turmeric, black pepper, coriander seeds, fennel seeds and cumin seeds at high heat until they begin to pop and are fragrant. Add the butter and onion and cook, stirring occasionally, until the onion is translucent– 5 minutes. Add the garlic, ginger and scotch bonnet pepper and cook until the garlic is golden. Add the beef and stir with a wooden spoon to break up any lumps. Cook, stirring until browned about 10 minutes. Add 2 cups of water and the tomatoes, reduce heat to medium, and simmer for 10 minutes. Add the cinnamon stick, star anise, mango powder, salt, vinegar, and potatoes; increase heat to bring to a boil. Reduce to a simmer, cover, and cook until the beef is tender —30 minutes. Add the peas, garam masala, and cilantro and cook another 10 minutes. Taste and add more salt, if necessary. Remove cinnamon stick and star anise before serving.
CHICKEN APRICOT POT PIE 
MAKES 6 TO 8 SERVINGS
During the months of January, February, and March at the farm, the daily temperatures huddle around 0°F and several feet of snow cover the ground. Even though we love winters on the farm, we'd be lying if we said our thoughts didn't occasionally drift to warmer, more exotic locales. This twist on a comfort food classic is a soul-satisfying vacation from those cold, short winter days.
PIE CRUST
2 cups all-purpose flour
1 tablespoon sugar
¼ teaspoon salt
½ cup (8 tablespoons) cold unsalted butter, cut into cubes
2 tablespoons olive oil
5 tablespoons ice water
CHICKEN-APRICOT FILLING
2 tablespoons olive oil
1 large onion, finely chopped
1 garlic clove, finely chopped
1½ pounds boneless chicken breast, cut into 1-inch cubes
½ teaspoon salt
1/8 teaspoon black pepper
1 teaspoon ground cinnamon
1 teaspoon ground ginger
½ teaspoon turmeric
3 tablespoons fresh lemon juice
½ cup dried apricots
2 cups tomatoes, diced
¼ cup sliced almonds
¼ cup golden raisins
1/8 teaspoon crumbled saffron threads
2 cups low-sodium chicken broth or homemade stock
1 tablespoon orange flower water (or use ½ teaspoon orange zest as a substitute)
2 tablespoons chopped fresh cilantro
2 tablespoons chopped fresh Italian parsley
3 tablespoons butter
¼ cup all-purpose flour
Salt and pepper
First make the pie crust. In a large bowl, stir together the flour, sugar, and salt until combined. Using the large holes of a box grater, grate the cold butter into the flour mixture. Coat butter with flour as you grate. Add the oil and mix quickly with your hands. Add the water and bring the dough together. Shape into two disks and wrap each disk in plastic wrap. Refrigerate at least 30 minutes. You only use one disk for this recipe; to freeze the second disk for a future pot pie, wrap it well and freeze for up to several months.
Meanwhile, make the chicken-apricot filling. Preheat the oven to 425°F. In a large, heavy skillet, heat the oil over medium heat. Add the onion and cook, stirring occasionally, until translucent. Add the garlic and cook 3 minutes. Add chicken and cook until lightly browned—3 to 5 minutes. If your skillet is not large enough to cook the ingredients in a single layer without overlapping of the chicken, do this step in batches so that the chicken is browning. Add the salt, pepper, cinnamon, ginger, and turmeric; cook, stirring, for 1 minute. Add the lemon juice, apricots, tomatoes, almonds, raisins, saffron, and broth. Increase the heat to high and bring to a boil, then quickly lower heat to a simmer. (If it starts to boil again, reduce heat further.) Cook uncovered until the chicken is cooked through—20 minutes. Remove from heat and add the orange flower water, cilantro, and parsley. Set skillet aside.
In a small saucepan, melt the butter over medium heat. Add the flour and stir until smooth. Add to the skillet and stir to combine. Place the skillet on medium heat and simmer until the sauce thickens and coats the chicken. Taste the filling and season with salt and pepper, if needed. Set aside to cool. Meanwhile, as the filling is cooling, roll out pie crust large enough to cover a 9-by 13-inch casserole. Spoon the filling into a 9-by 13-inch glass casserole dish and cover with the rolled pie crust. Cut slits in several places on the crust. Flute the edge of the crust by using the thumb of your right hand to push a bit of the dough between the space created when pinching the index finger and thumb of your left hand together.
Bake 30 to 40 minutes until the crust is golden brown.
Recipes excerpted from Beekman 1802: A Seat at the Table © 2017 by Brent Ridge and Josh Kilmer. Reproduced by permission of Houghton Mifflin Harcourt. All rights reserved. 
Looking for food that tastes like home? Browse our most popular delicious food gifts.