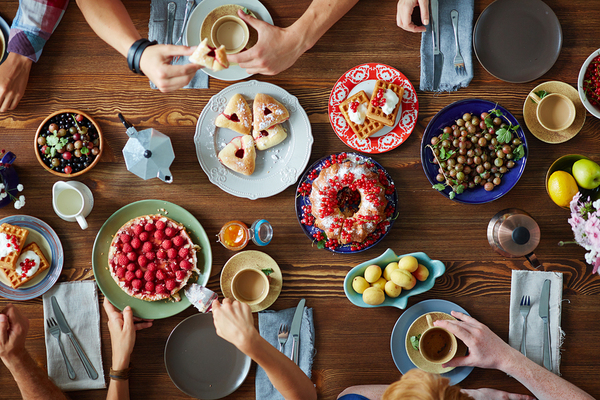 The official centerpiece of the Thanksgiving meal is a big, crispy-skinned roasted turkey with all the fixings—cranberry sauce, gravy, mashed potatoes, stuffing, and more. And the typical American family sits down with every intention of stuffing themselves silly on all of it. But the true star of the meal, we all know, is the dessert. And somehow, as if by magic, there always seems to be room for something sweet at the end of the meal. And it can't be just any old boring dessert. I mean, sure, your great-great-grandmother's pumpkin pie is a given, but what people really want at the end of an extravagant holiday meal is a real showstopper. Having one or several stunning desserts delivered to your door saves time and reduces stress, plus it guarantees that your guests will be wowed. And don't they say you should always leave them wanting more?
Pie is the quintessential Thanksgiving dessert and the seasonally appropriate options are endless. Whether your family craves pumpkin, pecan, apple, or sweet potato, there's a legendary example from one of the country's most iconic bakeries and it can be delivered right to your doorstep. You can get Food & Wine's favorite pumpkin pie from Sweetie Pie's Bakery, the Southern Pecan Pie called "the Best Mail Order Pie in America by Everyday with Rachael Ray, Bon Appetit's "Top Pick" Apple Pie, the impressively tall Levee High Caramel Pecan Apple Pie from Blue Owl Bakery, award-winning Pumpkin Pies, Betty's Pie's famous Cream Pies, and much more!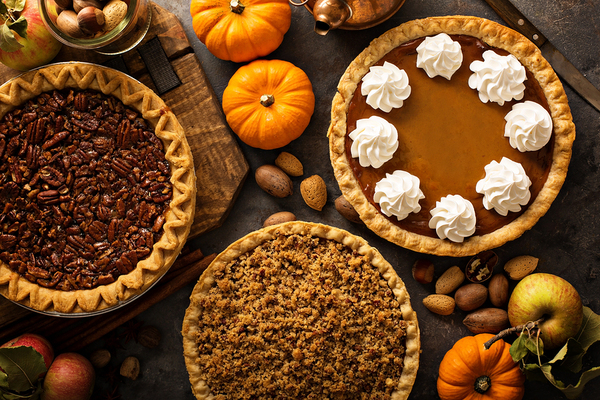 If yours is more of a cake family, there are plenty of options for you, too. Janie's Cakes will send you one of their mindboggling Ginger Jane Poundcakes, or order Oprah's favorite Chocolate Caramel Layer Cake from Krumville Bakeshop. If cheesecake is more your style, you can't go wrong with Ferrara Bakery's Cheesecake Duo, a New York-style Pumpkin Cheesecake in their famous graham-cracker crust topped with luscious caramel and roasted nuts and (that's and not or!) a New York-style cheesecake with an apple-and-cinnamon-crumb topping.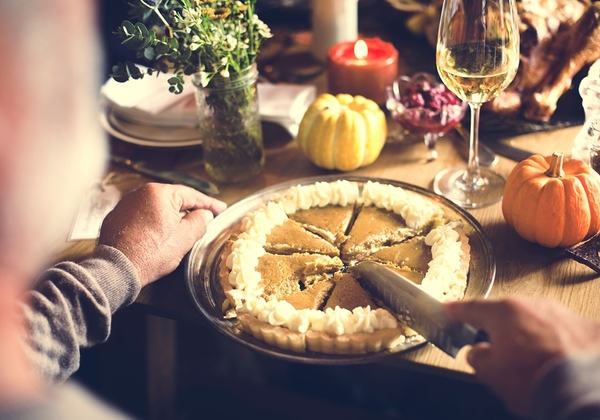 And of course, for those who can't decide between pie and cake, there's always Craveable's PieCaken, an all-in-one dessert that features pecan pie, pumpkin pie, and an apple upside down cake, all bound together with a sweet cinnamon buttercream frosting.
Get started now planning your low-stress, fabulous holiday meal with The Home Chef's Guide to a Simple & Satisfying Thanksgiving.  From start to finish, this will be the best Thanksgiving meal in memory. End on a high note—a grand finale dessert loaded with the addictive, craveable fall flavors of pumpkin, cinnamon, ginger, pecans, caramel, and apples that's delivered straight to your door and everyone will float out on cloud nine. Best of all, you won't have to lift a finger (well, expect to press "order now").
Browse all our delicious bakery and dessert items to get started today.